So starting (supposedly) today, Atheon will now port 3 random people, meaning everyone gets to have fun being the relic holder… and I have to learn how to shoot things again and actually deal with ammo shortages, but that's not what this post is about!
For starters, here's the controls on the PS4 (Since we're a PS4 clan):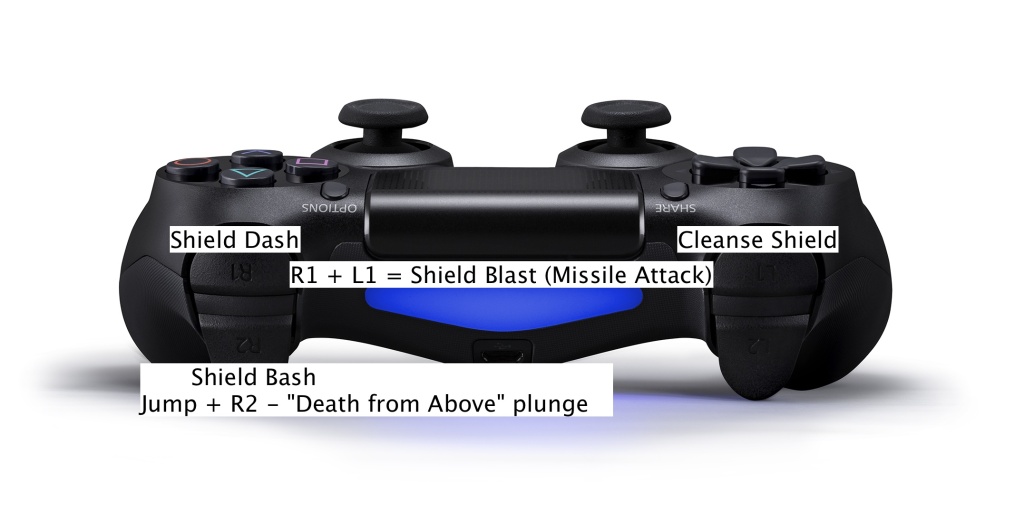 One thing to note about the controls – your shield dash moves you really far forward, so try to avoid being near any ledges before firing your super. Otherwise, you'll probably wipe the raid. The team only has 5 seconds to get the relic after it's dropped.
I'll try to summarize what I've learned being the relic holder. This is not a "Here's how to be the relic holder" post because there are 60 other ones of those, including a really nice one on reddit in a PDF. This is tuned to how we as DB do the raid, and how I have come to slot into the raid. It's still gonna be a smidgen long though – please read it through. There are 3 times where the relics come into play. I will break those down.
Templar
After you've killed the waves of Oracles, the relic spawns. As the relic holder, you have 1 major and 1 minor job. The major job is to charge your super bar as fast as possible by killing harpies that spawn so you can fire your ult (it's a dumb missle) at Templar to drop his shield. Your minor job is to cleanse the group if the group gets marked by an oracle (Likely to happen at least once).
So things I've found being the relic holder in Templar:
you really need to watch where you're running. Switching to 3rd-person perspective makes aiming the relic an entirely different task, and more than once I wiped us because I stuck myself into Templar's line of fire.
Death from Above (Jump + R2) is your friend. R2 by itself works fine but will do 0 damage to oracles.
Kill the oracles if you can (they will fill your bar by 1/3rd when you do) but the group stays in one spot, so don't run so far away that you're off all alone. If you die, the group should be able to easily recover the relic because at this encounter you can probably come back from it. That's not the case for the other two.
Assuming the group is doing what they're supposed to, you can cleanse everybody within 2 seconds. The cleanse meter is proportional: the longer you hold down the button, the more it drains, and the longer it takes to reuse. Thus you wanna use it in short bursts.
We don't use the cleanse shield as a shield because it takes so long to recharge.
Atheon's Room
After killing the gatekeeper, two people familiar with holding the relic  and a high DPSer  enter both portals, kill the gatekeepers, and get the relics within – 1 in each portal. It's then the two relic holders jobs to assist in roflstomping the minotaurs trying to sacrifice to the conflux in the middle.
Things I've learned:
As a group we normally do Venus (past / portal on right when you enter the room) first. As soon as you kill the first gatekeeper, rush the relic. If you killed the gatekeeper fast enough, the relic is free and clear. If not, there will be a yellow hobgoblin waiting for you, so save your grenades for him. You have to rush to the relic (and basically ignore the vex) as the first relic holder because you start going blind (Marked by the Void) as soon as the gatekeeper dies.
 Normally the portal team waits before exiting Venus because even with rushing the relic everyone will be completely blind, and so you have to cleanse before exiting the portal. Then the portal team will exit, and you cleanse again to remove the debuff while in Atheon's room.
 After enter the second portal, cleanse immediately upon hitting Martian (future) soil. You should have your ultimate at this point, so charge in and fire it at the gatekeeper – it's the same dumb missle thing as Templar, so aim well. Then you should start wailing on the minotaur thats probably barreling towards you at this point.
Once the second relic holder has their relic, we exit and start roflstomping minotaurs. They will begin spawning from the portals you just came out of, so watch your back!
A special note on minotaurs
Minotaurs are your nemesis. They deal a crapton of damage, both void and melee. They are basically immune to standard attacks (if their hand is over their faces, they will actually regen health from your standard attacks), and are only damageable by death from above. When you hit them with DoA, it will toss them a small amount into the air. You want to keep them in the air as much as possible because they can't fire their weapons in this state. You don't actually need to double jump / lift / glide to get DoA to work. Just jump and smash the R2 button as soon as you leave the ground.
<comes off soapbox>
Atheon
Atheon will randomly port 3 people into one of the two portals we just dealt with. As the relic holder, it will be your job to murder the vex in that portal. On Mars (we call it future), that will be 3 yellow hobgoblins. On Venus (we call it past), there are 2 yellow goblins and a lovely minotaur.
Things I've learned:
The Venus minotaur is a bastard. He regularly spawns in a poor position to hit him and take out the two goblins with one shot. If he's poorly positioned, ask someone inside with you to work on the two goblins while you deal with the minotaur, or vice versa if the situation calls for it. The downside with asking for help is it reduces DPS on the Oracles spawning over your head (which are not your problem, but you shouldn't be contributing to slowing things down, hehe).
Same deal as before, as soon as you enter, you start going blind. Once the vex are dead, go back to your teammates and cleanse them ASAP. The faster you clear oracles, the faster time's vengeance happens, and the more DPS you do to atheon.
I will normally fire an ult shot at the last oracle to help out as I'm charged by that point, but it seemed like they were no longer killing oracles in 1 shot last night like they normally were. That said, time's vengeance also wasn't popping reliably either, so it might have just been a bug.
As soon as you step outside the portal, put up the cleanse shield for the people exiting behind you – oh yeah also try to be the first one out as you're not doing anything really inside the portal once the vex are dead. Stay with your team though and cleanse them as they zone out.
Once you're out, find a good spot behind a rock and start poking your head out to fire your ult. Time's Vengeance charges your ult nearly immediately, and you will out damage probably 1/2 of the group if you land all your relic ult shots (Gjallahorn deals a ton of damage, but you don't run out of ammo or have to reload 🙂 )
So, that's it! Not too bad, and it all kinda flows once you get a feel for it.